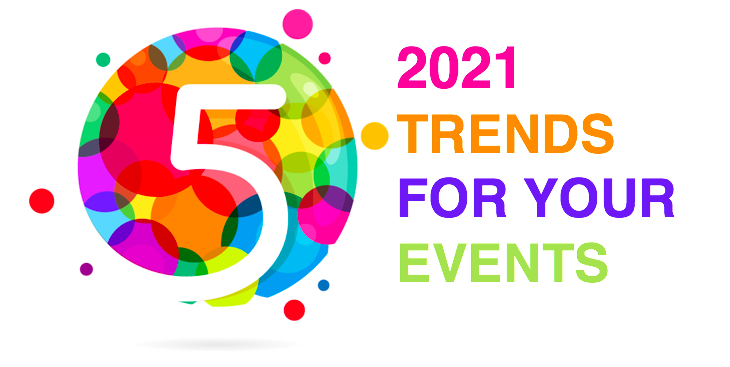 04 Jan

5 trends for your business events in 2021

As the year 2021 begins, we – professionals of the event – continue to sail murky waters. While the outlook is brightening (especially with the vaccine), confidence is still far from 100%, either on the side of the organizers or the participants.

In this context, it is difficult to predict a year without a calendar of pre-booked events and complicated to define to a communication strategy where everything can still change. And yet, we have no choice but to move forward and imagine solutions (or even stratagems) to "come together" and create the event.

Trends are emerging to help us design 2021. To date, I identify 5 main ones, which I list here in no order of importance or priority. And if I learned a lesson from last year, it's that these 5 trends may be obsolete in a few months, so feel free to "challenge" me. This is just my humble opinion !!

VIRTUAL – INTERACTIVITY

No big surprises here. The coming months will again give pride of place to virtual events. Between the bans on large gatherings and travel restrictions, it will be several months before you can organize your annual corporate convention at the regional convention centre or your VIP guests evening in a barge on the Seine. In the meantime, we will have to compete inventively to gain visibility among the proliferation of webinar and other connected events that are offered. Because a virtual event is not improvised as a Zoom meeting. The content is certainly ROI, but interactivity is REINE. And this is exercised as soon as the invitation: engage your audiences, make the actors and ambassadors of your virtual event … and multiply your impact (both quantity and quality). The greater the interaction, the more likely you are to attract and keep them for the duration.

PRESENTIAL – SECURITY

As you probably know, for us companies, it is always allowed to organize meetings and seminars in the present, in strict compliance with health measures. Hotels and meeting rooms have adapted to accommodate (small) groups: new gauges to comply with current regulations, new counting and protection equipment, new disinfection rules, new traffic habits… This opens up the possibility of original events in "cluster" mode: several groups of 10 to 20 people max meet, each in one place. Each space is connected in a virtual way by a duplex video conferencing system. There you go! An event that is safe, but still has the group effect: there's only one at home behind the screen.

And why an outdoor event? The aeration of spaces is a "must" to avoid clusters, what better than a Garden party or a team-building in the forest? Of course, easier to say when you imagine yourself in Spain than in Lille, but nothing is impossible !!

COMMITMENT – SUSTAINABILITY

Each of us will have experienced a return to essential values in 2020. Health, family, nature… This refocusing is not left out for professional events, whose design and messages will have to be in line with these new and reinforced expectations. Less travel, less superficial, less waste… more meaning, more sharing, more "engaging" and transparent actions. The eco-design of events was already in the trend, it comes out strengthened. The red thread of CSR (social and environmental responsibility) will be at the heart of the events… and not just in "green washing" mode. They will have to be embodied and illustrated with concrete actions – before, during and after.

APPARTENANCE – COMMUNITY

The community and the need to belong are feelings reinforced by the crisis. Social animal that we are, even isolated behind our screens, we have all sought to "belong", to "come together" to exchange and find ourselves. The events that will see the light of day in 2021 will have to surf on this desire to meet us around values, subjects, atmospheres. An event is no longer limited to a unit of place and time. These are the exchanges that will take place during (whether in virtual or in-person), but it is also the community of interest that we can build upstream and then live downstream. It is this ongoing dialogue that we can create and nurture through, among other things, social networks related to our event. This trend allows us to multiply their sounding board, and to give the floor (or even the power) to our audiences.

FUN – CAREFREE

Everyone says it "Fu 2020 – Welcome 2021! ». We're all tired of the anxious atmosphere and the gloomy aftertaste that has left us this year. 2021 must be lighter, full of parties, lightness and softness. The events of 2021 must provide joy and optimism, create joyful and energizing emotions, make people laugh, amaze, move. More than ever, we need to travel out of everyday life and discover other, more positive horizons. And there, the event has its place to take: magic, thrills, charm … let's take advantage of this year to "re-enchant" our audiences. You don't need any rhinestones and sequins. But rather to put into action our creativity to find how to infuse positive inspiration into our lives.

And what about you?

Thinking about your 2021 events? Virtual and connected? Or present and in a small committee?

If you need to be challenged on your ideas, our consultants are here to brainstorm with you and imagine THE event this early 2021.