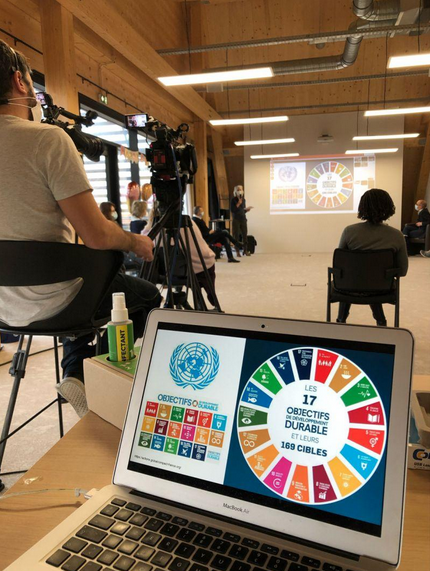 12 Feb

PHYGITAL EVENT FOR 50 PARTICIPANTS
hybrid event for Altera GROUP
La Creative Boutique has been assisting ALTERA GROUP for the past 4 years with the organization of their annual internal seminar, which brings together around fifty employees. In recent years, we have been working on a "3-day seminar abroad" format, with destinations such as Prague, Seville, Porto or Naples. In 2021, due to the pandemic, we have had to imagine another format, allowing us to bring together employees while respecting sanitary measures.
Organizing 100% virtual event was not in the picture, because it was important for the participants to meet in real, and not stay alone behind their screens. Because meeting alltogether was not possible, we  designed and produced a hybrid seminar format. The 50 participants we divided into 4 meeting venues between Lille and Paris, and linked together by a virtual and interactive platform. On the agenda : speeches, external speakers and a workshop on CSR, team-building. So it actually offered quite a "classic" seminar content, but experienced in an original format. The festive atmosphere and the joy of gathering together marked this exceptional day… ideal for celebrating the 15th anniversary of this great company that does not let constraints stop its teams.
Our agency intervention :
– Reflection and definition of the concept
– Content production with a journalist partner
– Team-building activities, goodies
– Hotel logistics: reservation, catering, fitting out, etc…
– Technical infrastructure: virtual platform, live capture and retransmission
A little bonus : We would like to thank our client ALTERA for their trust, as this was the first time we work on this hybrid format. We built it and lived it together !