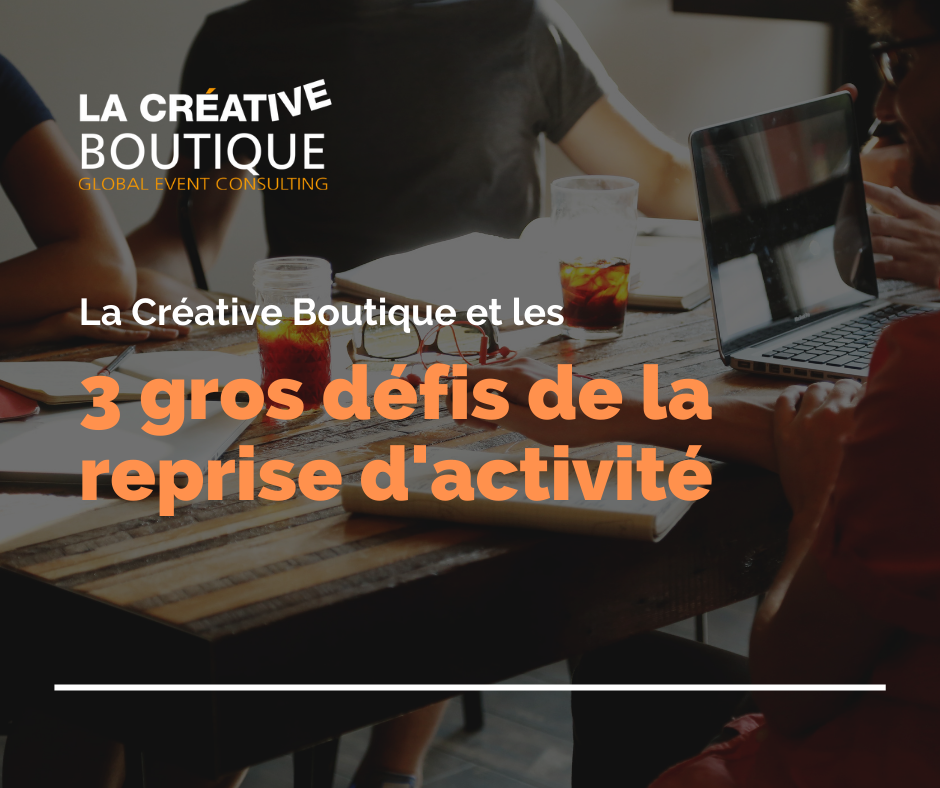 16 Jun

La Creative Boutique works alongside the economic recovery… and prepares for the new event season by taking up 3 big challenges!

For months, our consultants' activity has been 100% virtual. Far from being bored, we have been boosting our creativity to create a different version of events, and allow our clients to continue to weave the link with their communities. Internally with digital conventions, hybrid seminars or WebSeries. Externally with virtual trade shows, 100% connected conferences and even video series on social networks.

In France, since 9 June, the situation has changed and we can feel the fresh, warm wind of the revival of in-person events. While large events such as trade fairs and exhibitions still have to wait a little while to spread their wings, medium-sized projects are being rescheduled. In the past few weeks, client briefings have come in and our early summer agendas have filled up. It's been a long time since we've had to worry about "availability" with our hotel partners. Good for them, good for us !

But what about after Summer months ? What does Fall have in store for us ? It is difficult to answer this question today. At La Créative Boutique, we want to believe that there will not be a paralyzing 4th epidemic wave, and that "responsible" events will be able to continue to gain momentum. An event that is "different" from the one we used to organize, in many ways. Because we have many challenges to face… of which we believe the 3 main ones are :

Challenge #1: safety

All future events must first and foremost take into account health regulations and constraints to guarantee a safe event for participants and organizing teams. As the organizer, we are responsible for ensuring that the necessary protocols are put in place and that participants comply with the instructions. Schedules, room capacity, social distancing, health pass (if over 1000 people)…. We must be able to make proposals to adapt to this new situation… knowing that this information evolves over time and that we must therefore be flexible and adaptable… " Finger in the nose ! " 

Tip of the day: For France, Unimev regularly publishes the latest information on the regulations related to our activity. I invite you to follow them to be always up to date https://www.linkedin.com/company/unimev/  

Challenge #2: the hybridization of our events

The forced transition to the virtual world has enabled us to gain three years in the field of digitalization of our busines. Any existing reluctance has been overcome, and everyone has been forced to get involved. And we must admit that we have sometimes found advantages: cost and time savings, a wider audience, easier replay consumption… Even if everyone wants to return to in-person meetings and events, we cannot ignore the undeniable benefits of virtual formats.

It is now up to us to find the technical solutions and new economic models to find the best balance and make face-to-face and digital formats coexist in a virtuous way. This hybrid challenge is THE key to the success of today's and tomorrow's events.

Challenge #3: listen, reassure and support

Organizers, exhibitors, visitors, participants… the "big events" sector has been at a standstill for a year. Recovery will not happen in a day, nor in a month. Investments are picking up but remain timid on large-scale projects. Will visitors travel? Do they have the right to do so for international events? Will exhibitors reinvest the same budgets as before or reduce their surface areas? Will the scientific delegates who appreciated the virtual format abandon the in-person congresses The questions are numerous, and we still have little visibility to answer them.

At La Créative Boutique, we have decided to listen to all stakeholders, to take the time to contact our partners, our colleagues, our clients and our clients' clients to discuss what they have experienced this past year, their future projects, their successes, their doubts and their new expectations. From this active listening and rich discussions, we draw inspiration and ideas that will feed our next achievements. 

SECURE / HYBRID / LISTEN… this is the 3-step strategy undertaken by LA CREATIVE BOUTIQUE teams to find a way out of the crisis and have fun again by creating original events.

What about you?

What actions are your taking to tackle the 2nd half of 2021 with optimism?

And what are your plans for events?

Perhaps we could think about them together?